Protect, Enhance, Connect.
For All of Us
The vision of The Forest Bridge Trust is to create a connected landscape of healthy forest and flourishing indigenous wildlife from the Kaipara Harbour in the west to the Pacific Ocean in the east. 
The seed of The Forest Bridge Trust was planted when founders Kevin and Gill Adshead— who reintroduced kiwi to their family farm at Glorit in 2013— discovered that for the new residents to spread their flightless wings and thrive, they would need 10,000 hectares of predator-controlled habitat. This would be a challenge in itself, but they had an even bigger dream that one day, these west coast kiwis could safely roam and eventually meet up with their cousins over in Tāwharanui Regional Park. It was clear, to make the dream a reality, a team was needed to work with farmers and other landowners and the wider community to connect the landscape through fencing and planting and to improve the habitat by controlling pests and predators.
Gill and Kevin sought out other like-minded people with similar aspirations and in 2014 a farmer-initiated environment trust, The Forest Bridge Trust (TFBT) was created. The vision and mission of the trust were developed by farmers, other landowners, and local groups working to protect and enhance the environment where they live. Since those early days it has been recognised that more specialised people and many more resources were needed to turn the dream into reality. From a largely voluntary base of a few people with a big dream, the trust is now a substantially resourced and effective organisation actively achieving the vision of connecting, protecting and enhancing the landscape from coast to coast.
Kia Ora from Craig
Leading one of NZ's prominent charitable trusts involved in land and wildlife conservation is a huge privilege. While we have grown rapidly over the past 2 years since gaining Jobs For Nature funding, our origins go back to 2014 when our founders, Kevin and Gill Adshead, had the vision of kiwi being able to roam safely from the Kaipara Harbour in the west to the Tawharanui Regional Park ... Read more »
Nikki Morgan, our Comms Co-ordinator, recently had an article published in the Mahu Matters.
Our priority – building a central bridge
Until 2025, our focus is working to achieve a predator controlled corridor of land, the Central Bridge.  This is an area of 54,000 hectares connecting the existing wildlife sanctuaries at Mataia Restoration Project in the west to Tawharanui Regional Park in the east.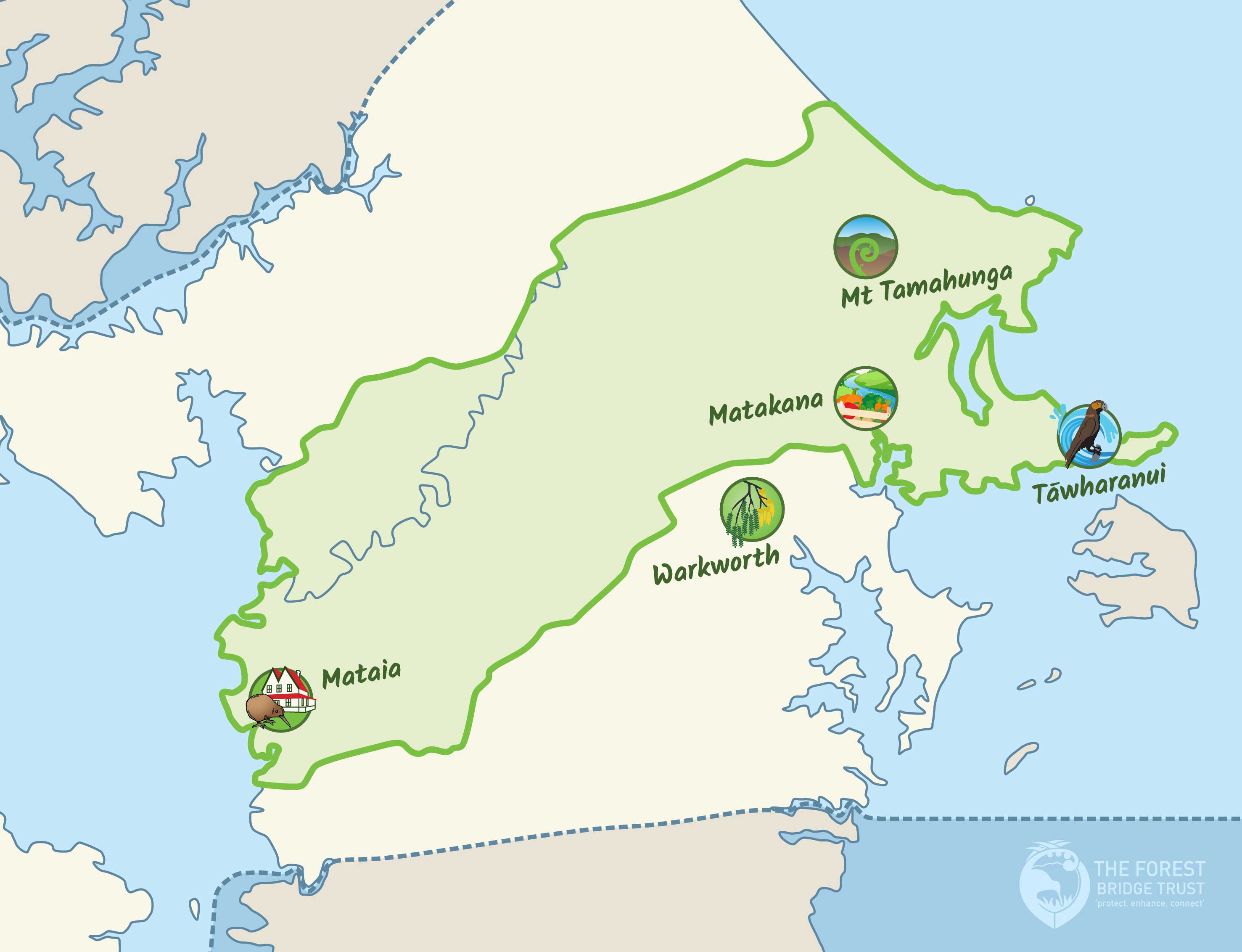 How we will build the bridge
Our activities connect the landscape and people in the North Rodney region through focused activities:
Fencing and Riparian Planting
Your Support makes a big difference
Through practical landowner-centred support, enable the protection, enhancement and connection of forest remnants, wetlands and other landscape to provide safe habitat for indigenous wildlife.