Spring 2022 update from The Forest Bridge Trust CEO, Craig Presland
Spring 2022 Update
Kia ora all TFBT supporters, volunteers, landowners, funding partners, staff, trustees and other stakeholders,
Leading one of NZ's prominent charitable trusts involved in land and wildlife conservation is a huge privilege. While we have grown rapidly over the past 2 years since gaining Jobs For Nature funding, our origins go back to 2014 when our founders, Kevin and Gill Adshead, had the vision of kiwi being able to roam safely from the Kaipara Harbour in the west to the Tawharanui Regional Park in the east.
Working effectively with landowners and the local community is key to our success while we have over 1,800 key rural landowners across our Central Bridge with habitats suitable for native wildlife. To date, our Community Liaison team has been able to ensure that just over 50% of these landowners are willing to help contribute towards TFBT's outcomes by essentially trapping and/or fencing and planting. As a result, we now have over 15,300 hectares across the Wider Bridge under mustelid control (ie. trapping for ferrets, stoats and weasels), this either involving traps that we have provided and set or traps that's others have set but we have supported in terms of geographical planning in setting trap lines, predator control training, trap monitoring and maintenance, trap audits, community liaison etc. Our goal is to reach 54,000 hectares across the Wider Bridge by 30 June 2025, so we are 28.3% of our way there.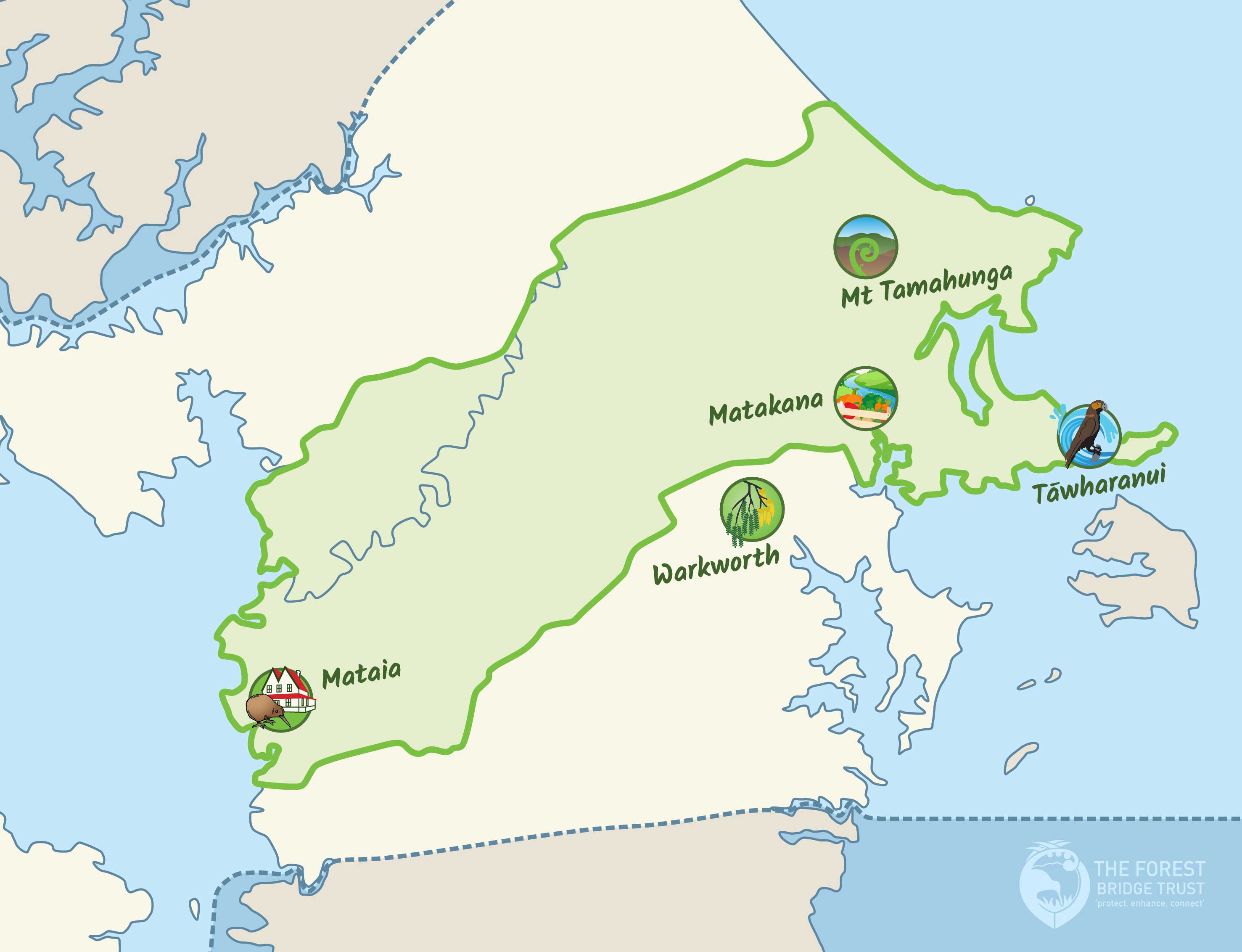 We clearly can't do this on our own and are reliant upon a large number of supporters who set, monitor and maintain traps on their own property(s), and volunteers who do the same but on other people's properties once consent is provided. Our role with such supporters and volunteers includes providing traps, training prospective trappers, setting predator control plans, maintaining traps (including the provision of bait and repairs), providing trap audits (trap and catch numbers), providing sound ecological advice and effective community liaison. I would like to thank all our 900+ TFBT supporters and volunteers for their commitment and support to date, we are on an exciting journey!
We now have over 1,250 TFBT predator traps deployed, over 90% of these across the Central Bridge, while the total number of traps across this rohe, including those set and maintained by our supporters and volunteers, is now over 5,000.
In terms of fencing, we have managed projects that total over 57.3 kms since 2017, our key funder and partner over the past 2 years being Kaipara Moana Remediation (KMR). Our primary schools' education program has now been provided to over 1,500 students across 15 different local schools since 2015, with 350 families of these students attending TFBT predator control workshops subsequently.
In addition, we have a goal of preparing 3 sites for kiwi translocations by June 2025 and one of these, Mt Tamahunga, now has almost 7,000 hectares under mustelid control. Here we have worked closely with a local community group, Tamahunga Trappers, in achieving this level of control and preparedness.
In terms of TFBT staffing since our last newsletter, we have continued to grow rapidly in both staff numbers (8 new staff since 1 July) and overall capability. We currently have a team of 23 staff and 2 permanent contractors, and now have only 5 job vacancies to be filled. We have boosted our resources both on the front line as well as across our back-office support services. New staff added since early July have been in the areas of operational and financial management, predator control, community liaison, ICT, volunteer coordination and communications.
The quality of our staff and their commitment towards TFBT, predator control, fencing and planting, ecology, and overall land and wildlife conservation will always be a strong driver of our success.
We have an outstanding team in place and a bright future ahead as we work closely with landowners, volunteers, community groups, mana whenua, local councils, Save the Kiwi, Jobs for Nature, KMR, Department of Conservation and other key stakeholders.
We thank you all for your passion, hard work, loyalty and commitment.
Nga mihi
Craig Presland (CEO)
30th September 2022